Playing live again and celebrating our 10 year anniversary as a band!
03/05 2016

It certainly feels god to be "back on the horse again" playing live gigs since our long working process with the new album. The photo to the right (by Claes Österman) are from the water concert in Bro kyrka which was a really nice event! We are also very excited about playing in Borlänge at Peace And Love festival which will probably be one of the biggest gigs we have ever done.
Also, we have now been at it, playng music together for a decade! Amazing!
Pre-order Melancholia
21/3 2016

To pre-order our new album Melancholia on iTunes, and to check out the names of the songs and see the entire setlist of the album, click here.
The art design of the albumcover (to the right) was painted by Peter Bohman.
Also, our single Pretending is now available on spotify, click here to listen. Enjoy!


The upcoming album!
13/3 2016

We are happy to announce that we have a new album in the pipeline which will be realeased soon! We are very pleased with the new songs and we have just released the single "Pretending" on iTunes. The full album "Melancholia" with 10 tracks will be released 1:st of April. The songs on the new album are a bit more experimental than our previous work but you can definitely still recognize the earlier singer/songwriter and folk-rock sound with a country touch to it. On several of the new songs we have used an unconventional mix of instruments such as clarinet, cello, banjo and electric guitar and we think it sounds great!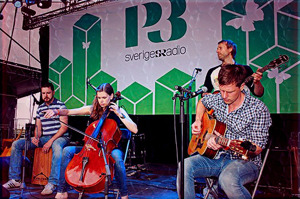 Hej på er,
nu börjar våren på allvar ta fart och för vår del innebär det en skön spelning på Café August. Hoppas du gör som många andra och kommer dit och tillbringar kvällen med oss. Datumet är fredagen 25:e april.

Några av er kanske även känner till att vi arbetar förbrilt med en ny skiva. En av de nya låtarna "Pretending" kan ni faktiskt höra redan nu om ni letar er fram till 14/3 på ljudklipp från SR nedan.

/Hoppas vi ses

Ruins på Roots
Ruins på SR
Läs hela inlägget »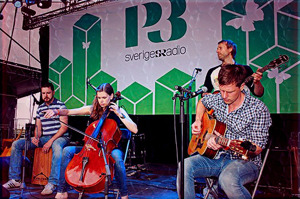 Hej på er,
nu börjar våren på allvar ta fart och för vår del innebär det en skön spelning på Café August. Hoppas du gör som många andra och kommer dit och tillbringar kvällen med oss. Datumet är fredagen 25:e april.

Några av er kanske även känner till att vi arbetar förbrilt med en ny skiva. En av de nya låtarna "Pretending" kan ni faktiskt höra redan nu om ni letar er fram till 14/3 på ljudklipp från SR nedan.

/Hoppas vi ses

Ruins på Roots
Ruins på SR
Läs hela inlägget »